Sorry for posting this late. Been busy lah what else??
An
Ommpphhh Pa Pa
session was arranged by
KlipschJ
over at Bier Keller, a German pub and bistro, last Friday. This place is almost a hidden gem for it's secludedly located at one corner on the ground floor of Menara Haw Par, huh??? Where?? What?? Haw Par??? Ahahaha, this building is located just beside Shangri-la Hotel KL. The best way to describe to get to Bier Keller is - behind Caltex Petrol Station!!! Serious ok.
I used to frequent this place a lot when my office was nearer. Their food is superb. Strangely, it's a German watering hole, it does serves kick-ass local fare as well. I simply love their Thai Fried Rice. Don't be fooled too for their Hokkien Fried Mee, Claypot Yee Meen and Fried Mee Mamak are their best sellers. However, I have to say their western and German food fare pretty well too!!! Their veal sausages, goulash, lamb chop, seafood platter, mixed grill and let's just say almost every darn thing on the menu were great!
Back to our Octoberfest gathering, when I reached there, almost the whole jing gang were there already sitting around the barrel...
desparil
, LCTI, keriso, Osama Bin LaTeng, virlution, weezy, KlipschJ and kslian. Plonked myself down and ordered this... Schneider Weisse.
Hmmm after sipping away the creamy foam... hiaks... how come no kick liau??? Duh... this dark beer used to taste creamy and smooth but now it's like so watered down?? Sighhh...
After more talks, suddenly Weezy announced that she's hungry and some of us moved downstairs to have some dinner. Teng & KlipschJ remained near the bar since they were not eating. Psssttt but in actual fact hor, these two fellas busy eyeing on someone's 1/3 balls :p hehehe
More bantering and laughters... food and more beer came. First up, I couldn't resist Keriso's Bitburger, I mean the beer glass. It's so beautiful, felt like tar pau the glass back home ahahaha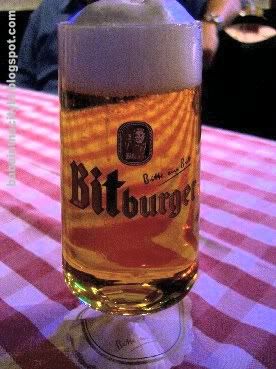 After scrutinising the glass, Keriso, being his first time mah, noticed something on the glass. He pointed to me and Weezy "See this line... this glass is really from Germany one. That's the standard lah. They must fill up to that line". I took a closer look and hey presto!!! This keriso
untung
liau cos the beer was way above the line hahahaha... Can you see or not??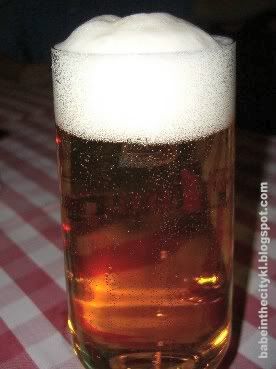 Next, Ahpek came with kcfu in tow. More beers were ordered. After a while our food came. This is the superb chicken wings. They're very well marinaded before deep fried. Served with a side salad. This basket belonged to Virlution.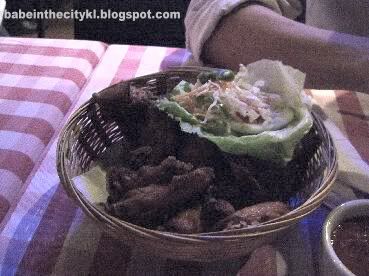 I ordered Spicy Fried Drumstick (I think that's the name). 3 lovely deep fried drumsticks came with coleslaw and fries. I food exchanged one drumstick for some fish and chips off Weezy's plate and another one for some sausage salad that Keriso ordered. So I have one lovely drumstick to myself. Yumz yumz...
This was keriso's some kind of sausage salad. Yeah that's his sexy beefy arm holding the plate with some type of German bread :p hehehe... Not sexy meh? Since I have some bite of his salad (not his arm ok) it's pretty refreshing with loads of sausage strips over iceberg lettuce with a drizzling of I don't know what dressing that is tangy and slighty creamy. Never knew such a dish existed.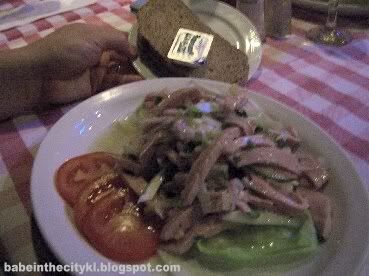 My neighbours Desparil and LCTI shared a plate of Mixed Grill. When it came, oh boy, it was so mouth watering! Such a huge serving, lucky LCTI suggested to share with Desparil. On the plate were 4 large chunk of steaks - veal, beef, lamb and chicken served with blanched mixed vegetable and potato salad. Ooo I missed their potato salad. Should have stole some from their plate hehehe but heh I was busy trading my drumsticks.
Weezy's fish and chips tasted great too, thick fish meat with not too thick batter. Thumbs up! No pic taken for this. Not sure what others ordered but this one sure grabbed out attention.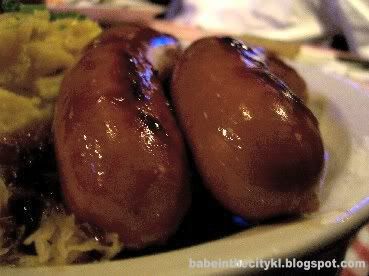 Eh eh?? Are you thinking something dirty?? Ahahaha can't blame you and this Weezy simply have to take what kcfu ordered in such an angle.
So what have kcfu ordered?? I've no idea. Check them out yourself...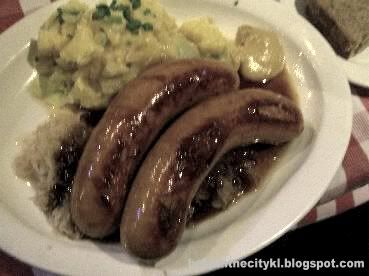 Gotcha!!! Ahahahaha... I think it's veal sausage. Betul ka?? By this time our infamous
ahloongkor's
mahchai
,
acqub
, came, wahliau, so "
semak
" leh, adoi... scared we gonna mistaken him as VCD seller again?? :p
The next person who turned up was Arist188. Wahseh... I checked him inside out, comfirm liau, he's not gay. I think pretty eligible and I heard he got a babe magnet but he never offered this babe a ride in his fierce clawing
lion!
We did checked out this babe magnet a couple of weeks ago, it's so sexy! Hoooiiii, when are you gonna give me a ride??? I'm a babe and yes, your lion IS a magnet!!!
Eh eh how come suddenly got one tall fella barged in holding a lenglui's hand??? I see see... like he kinda kenal us but then I'm not really sure since I faced the entrance. Like so familiar but who is he leh??? Sekali he came and intro us that he was 3some. Aisay, sorry lah cos you really looked different now as compared to few months back when we go
kiu kai
.
Paiseh
arhhhh :p
Next Captain Hook came after his happy hour session with his client nearby. More beers, more food, more laughters... Ahpek and kcfu decided to
pitt
first but turned back. Seems like its pouring outside, yeh!!! Ahahaha it was not meant for them to leave yet. After another 30 minutes or so, the sky cleared and we left Bier Keller, feeling high - high from the laughters actually but I'm not sure about the rest though since so many rounds of Schneider and beers were drank.
Since keriso, Captain Hook, kcfu and Ahpek walked to Bier Keller from elsewhere, Weezy decided to gave us all a lift in her ahzoomjie. I tell you hor... we made keriso to sit in front, Captain Hook, myself, kcfu and Ahpek squeezed in at the passenger seat. Wahseh, Weezy informed that her ahzoomjie just achieved - THE MOST NUMBER OF PASSENGERS IN ONE SEATING!!! Ahahaha but we really have to compliment that her suspension was superb as not a single squeek was heard... bravo ahzoomjie!!! Thank you Weezy for the lift.
So, when's the next round eh? I enjoyed the food, not the beer though but best was I enjoyed the company the bestest! Thanks Bin LaTeng for my Schneider for he kena belanja me accidently amidst all the confusion over the earlier billings. *Muaks*
JJ Hokkien Char
on me next.
Check Desparil's
version
.
p/s: the photos sucks but hey it's pub with dim light wor